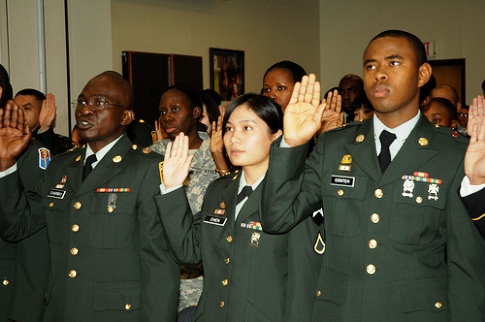 UPDATE: Take action to support the DREAM Act now!
First things first, in honor of Veterans Day, check out this great blog on immigrant service to our nation by Immigration Impact.
Lance Cpl. Jose Gutierrez, an immigrant from Guatemala was killed in a tank battle In Iraq in March, 2003, and his untimely death marked one of the first fatalities of Operation Iraqi Freedom. We can't (and shouldn't) forget that Lance Cpl. Gutierrez was a former undocumented immigrant, and is just one of more than 100 immigrants who have been granted posthumous citizenship after dying in combat in Iraq or Afghanistan.
Today we honor his memory, as well as the memory of all of our fallen servicemen and women.
But American history is filled with both the stories of immigrants making the ultimate sacrifice for the land they love and the current crisis of young immigrants being blocked from serving the country they call home. That is one reason why the DREAM Act is so critical today.
In case you missed it, the big story last night was that House Speaker Nancy Pelosi (D-CA) is planning to join Senate Majority Leader Harry Reid (D-NV) in advancing the DREAM Act in the last few weeks of our current Congress known as Lame Duck.
The news has advocates of common-sense immigration reform cheering and looking to see which Members of Congress will step up to invest in America's future, support our armed forces, and honor our nation's history of immigrant service.
Our Executive Director, Frank Sharry, puts it this way:
"On this Veterans Day, a fitting way to honor military service and sacrifice is to give young people who grew up in America the chance to continue this proud tradition. Passing the DREAM Act would be an investment in America as much as it is an investment in these young leaders. We applaud Speaker Pelosi and Senate Majority Leader Reid for listening to the military experts and Department of Defense and setting up a vote on the DREAM Act this year.
The measure has been around for a decade, and there's no reason why Democrats and Republicans shouldn't come together to pass it now. The DREAM Act would give high-achieving young people – immigrants who have been raised here, worked hard in school, and want to pursue higher education and/or serve in the U.S. military – a chance to achieve the American Dream and earn their citizenship. "