Last Sunday, Senator Richard Blumenthal met with a DAPA-eligible family as part of the ongoing "DAPA Dinners" campaign.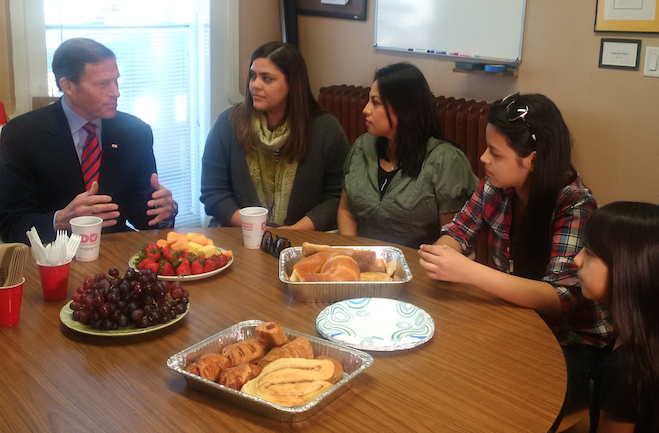 Ana, her husband Isaias, and their two daughters sat down with Senator Blumenthal in New Haven, Connecticut, just one day before the family traveled to Washington D.C. for the Supreme Court hearing on DAPA and DACA+.
Ana has been in the United States for over a decade, and Isaias for double that time. Because the couple's youngest daughter is a US citizen, they would likely qualify for work permits and deportation deferral under the President's program.
But because of the partisan lawsuit now being reviewed by the justices of the Court, implementation of the program has been on hold.
"Tomorrow you'll be part of history and making America better," Senator Blumenthal said in praise of the family's plan to travel to the rally in front of the Court.
"The Supreme Court should recognize President Obama's clear authority to choose to focus on deporting felons, not hardworking families who contribute to our communities and boost our local economies."
In the state of Connecticut, some 40,000 undocumented immigrants are eligible for DAPA and the expanded version of DACA.
Senator Blumenthal is the second member of the Senate to sit down with an immigrant family for a "DAPA Dinner" this month, and the fifth Senator overall.
For the past few months, immigrant families all across the nation have been meeting with elected officials and candidates for office to stress the importance of these programs.