UPDATE Friday, October 23 11:00 am: Hate crimes legislation now headed to President Obama for his signature, according to CNN.com.
Note: Cross-posted at Jack and Jill Politics.
CNN began airing their highly-publicized series, "Latino in America," last night, and I have to say, their coverage of the uptick in hate crimes against people of color was powerful. The series delves into the racially motivated murder of Marcelo Lucero by a group of high school football players in small-town America and does it with a clarity that leaves viewers understanding what a hate crime murder really is.
CNN's "Latino in America" series tells the chilling, now-infamous story of Marcelo Lucero's brutal murder in Shenandoah, PA:
SHENANDOAH, Pennsylvania (CNN) — Crystal Dillman says she will never understand why a group of teenage boys beat her fiancé to death.

She says she will spend the rest of her life seeking answers — and justice — for the man she has lost as she struggles alone to raise her three young children.

"My life is forever destroyed," said Dillman, who was 24 at the time of her fiancé's death. "My family is forever destroyed."

Her fiancé, Luis Ramirez, an undocumented Mexican immigrant, was walking down the street in Shenandoah, Pennsylvania, on July 12, 2008, with Dillman's half-sister, who is white.

A fight broke out between him and a group of white high school football players. He died from his injuries two days later, leaving a small community stunned at the brutality of the crime.
Here's a photo from Crystal, of the couple: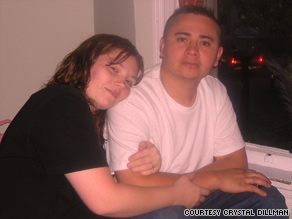 Unfortunately, Marcelo's murder is no isolated incident.