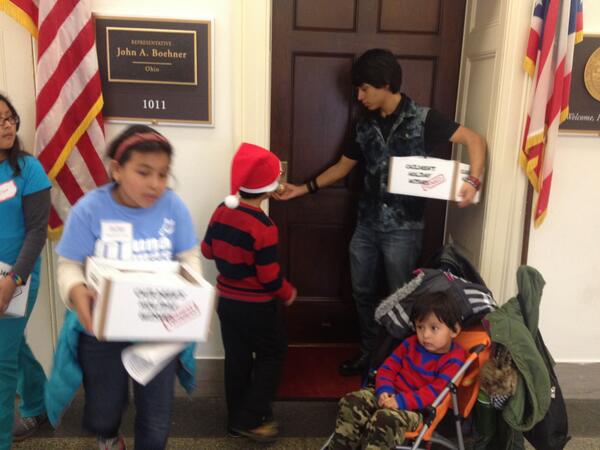 Republican Leaders Can Lock Their Doors But They Cannot Hide from the People Pressing for Action on Immigration
After the Obama Administration announced plans to cancel White House tours due to sequestration cuts earlier this year, Speaker of the House John Boehner (R-OH) responded by saying, "I'd like to start this morning by letting the American people know that the United States Capitol is open to visitors, we'd love to have the American people come and visit their Capitol."
Apparently, that doesn't apply to all of the American people.
Today, a delegation of youth from the We Belong Together campaign were met with yet another closed door from Speaker Boehner's office in their attempt to deliver over 6,000 holiday letters and wishes for immigration reform from children across the country.  This is only the latest in a series of locked doors that have met immigration reform supporters exercising their constitutional right to petition their own government.
Last week, some 40 children with the Fair Immigration Reform Movement's Youth in Action campaign visited Capitol Hill to serenade GOP offices with songs and Christmas carols for immigration reform.  At Speaker Boehner's office the children—who came to tell their own personal stories dealing with a loved one's deportation—slipped handmade holiday cards under his locked office door and sang "we pray for Speaker Boehner to bring a bill to a vote" to the tune of "We Wish You a Merry Christmas."
Incredibly, the Capitol police shouted that singing was not allowed and threatened to start arresting the children if they did not stop.  As the officer said, "Warning number one.  That's all you get.  This is getting old REAL fast.  I'm not going to tolerate it. This is a place of business and we do NOT sing in the hallway.  Comprende?"
Some of the children were interviewed by Univision following the confrontation.  As one child said (translated by America's Voice), "I felt very afraid because they said very ugly things to us, and scared us quite a bit."  And as another added, "They don't know the pain we're going through."
Similar events took place last week at Majority Leader Eric Cantor's (R-VA) office, where peaceful demonstrators were threatened with arrest, as well as Majority Whip Kevin McCarthy's (R-CA) Bakersfield, CA office where advocates brought giant rubber duckies to the congressman's locked door to stop "ducking" his constituents.  At Rep. Peter Roskam's (R-IL) office, advocates trying to visit his local Chicago office were also met with locked doors.
Last month, advocates and immigrants attempted to deliver turkeys and merlot wine to House leadership offices but were stopped short when they found the Speaker's door locked and House GOP leadership apparently called the Capitol Police.
"While the doors of the House of Representatives may be open for some, clearly they're not open for all," Lynn Tramonte, Deputy Director of America's Voice.  "These actions are the essence of democracy.  Republican leaders can lock their doors and try to intimidate us, but we know they can hear us and we know they can see us.  The simple truth is that our movement will not back down and will not go away until the House schedules a vote on a path to citizenship for 11 million aspiring Americans."